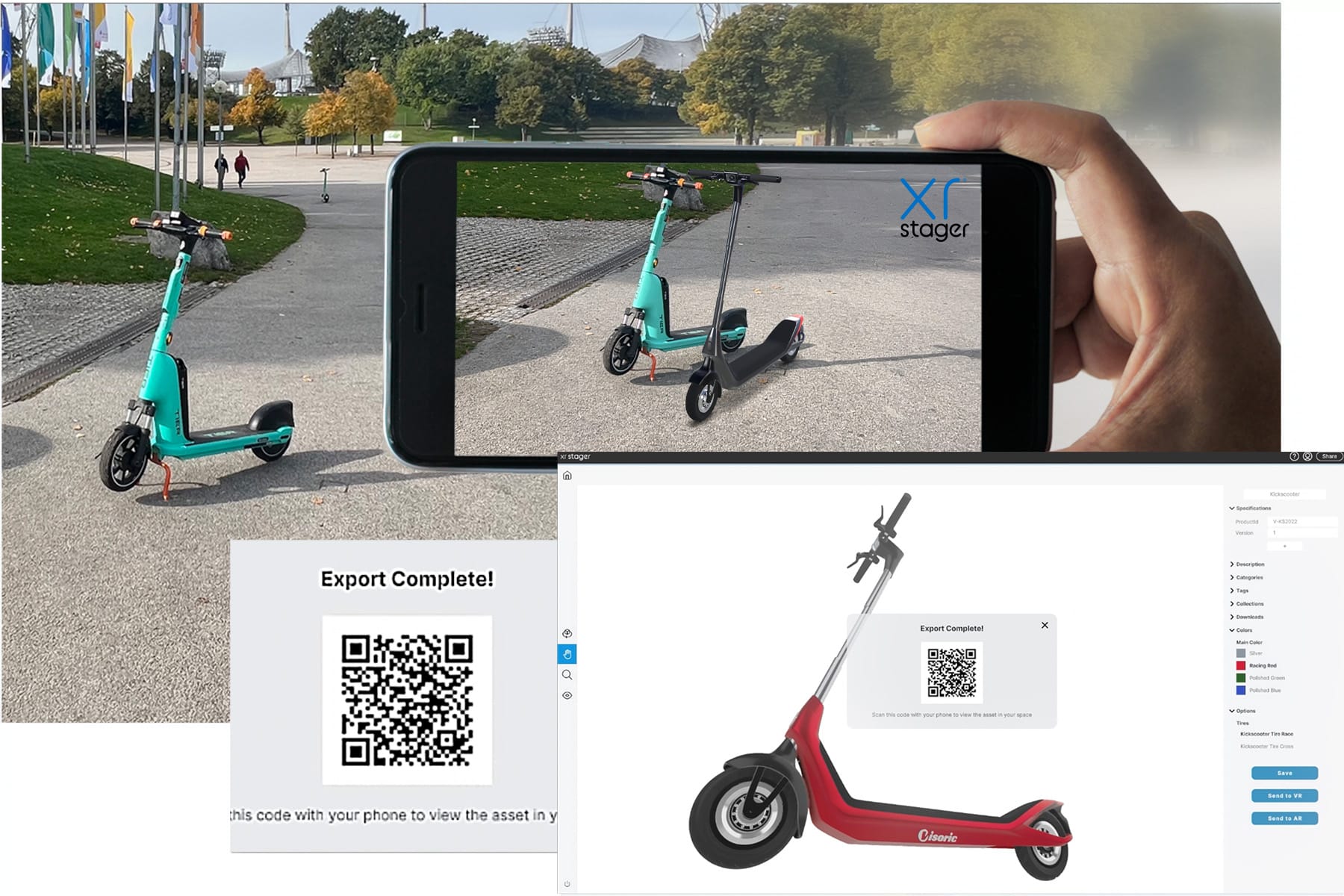 XR Stager
AR Studio
The AR Streaming Platform for your Industrial Metavers
With a handhelds that supports Augmented Reality you can experience your digital products / digital Twins and virtual 3D worlds right next to you in the room as if they were really there.
Since it is often very cumbersome to turn 3D models into augmented reality experiences and make them accessible to yourself or your customers, we have developed and integrated the easy to use and at the same time powerful feature AR Studio for the XR Stager.
Watch video
Watch our demonstration video about the XR Stager AR Studio here.
Configuration in reality mode
Configure new products from your existing modules and see the result immediately assembled in the real room.
Versions
Create multiple versions of your augmented realty experience easily and intuitively in the Asset Manager and manage the versions conveniently in your AR Studio account.
Augmented Reality on the Fly
In a few seconds, make your 3D data available as an augmented reality experience. Worldwide. Start automatic conversion, scan QR code and send link.
The Augmented Reality Studio in the XR Stager can do more:
AR UX created automated
You don't need a special AR agency, convert independently and automated your models from XR Stager into AR experiences.
Automatic Web Server Upload
The AR Studio in XR Stager also automatically takes care of hosting the AR experiences you create. This is especially handy if you have a lot of models to present.
Realistic environment occlusion
Using Artificial Intelligence, the AR experience produced and delivered with the XR Stager detects thickening through the real environment and subtracts from the geometry.
AR Turbo for Development
Detects bugs even faster, giving developers the ability to view prototypes in real-world environments within seconds.
With AR to better design
Develop better design faster by giving your creatives the ability to view ideas and designs in AR within seconds.
Cloud & Web AR with CMS
With XR Stager AR, share and control your virtual reality content conveniently and comfortably through XR Stager's powerful CMS using cloud & web technology.
Augmented Reality even without an app
With XR Stager AR Studio, products and custom product configurations can be realistically placed in a room directly from a web link on their tablet or smartphone.
Correct-sized digital product
XR Stager AR Studio correctly detects real-world spaces and automatically places digital products from Asset Manager at the correct size.
In principle, our offer is quite simple:
Asset-Manager: Control center and content management system for your digital twins
Rendering Engine: Your virtual photo and film studio for brilliant photos and films based on your 3D data
Showroom: The virtual exhibition, presentation and trade show room for your products. As well as powerful event and planning tool for hybrid trade shows.
What can you expect in the demo?
A personally guided demo only for you via screenshare and streaming link – approx. 30 min.
Your questions are priority: Whether and how the XR Stager can solve your challenges, and how we adapt it to your individual infrastructure and your wishes.
Your advantages in the Industrial Metaverse
Attractiveness
Your company continues to gain in attractiveness. In the labor market, with existing employees, but also with customers and investors.
Career Leap
For many of our customers, joining the Industrial Metaverse is a real career jump. Because you add massive value to their business and underscore your role as an innovator.
Giving sales wings
Have you ever presented your products three-dimensionally and in real time? You won't recognize your customer. And neither will your close rates.
Emotionalize marketing
Customers can twist and turn your products any way they want, just as if they were touching it with their own hands. All in high-end. It doesn't get much more emotional than that.
Comprehend the complicated immediately
You can explain products that need to be explained long and wide. Or you can simply show them in 3D and in real time. Pictures that say more than 1000 words.
Successful product launches
Test your products virtually before you produce anything. This way you can continuously optimize the user experience and significantly increase the likelihood of sales.
Significant savings
In the future, you can also easily present trade fairs or exhibitions virtually, replicable at any time and also easily modified. And high-quality images and films can also be created in the future without external costs.
Tailored access rights
You easily determine who has access to your Industrial Metaverse. And who or which groups are allowed to modify, download or forward data.
What is a virtual production studio?
A virtual production studio is a type of studio, but it does not exist in the physical world, it exists only in the digital world / virtual world of the computer or as with the XR Stager production studios, in a powerful cloud environment.
XR Stager's production studios are accessible from anywhere. The creative can simply log in with his credentials via the web browser and start producing. He does not need a powerful computer for this, nor does he have to install any software. The required software, computing power and storage space are provided by the XR Stager Cloud Solution platform.
The virtual production studios, of the XR Stager were developed specifically for the production of 3D content and for the use of virtual reality environments and to build a company Industrial Metaverse.
How do I create an AR experience / an AR APP?
With the AR Studio of XR Stager, you can create an augmented reality experience, specifically an Augmented Reality User Experience (UX), or AR experience, in the form of a web app from your digital twins or 3D models in just a few minutes.
Log in to your XR Stager account through your web browser by opening the page: https://xrstager.com and clicking on the login button in the top right corner.
Sign in using your login credentials.
Select your digital twin from the 3D Asset Manager under the AR Studio tab.
If necessary, configure your digital twin according to your preferences using the configuration menu.
Click the "Send to AR" button on the right side.
Scan the QR code with your smartphone or tablet.
Experience your digital twin in AR within the real space.
What is the difference between AR App and AR Web App?
An app, short for "application," is a software program that is installed on a smartphone, tablet, or other mobile device, providing specific functions or services. Apps are often downloaded and installed on the mobile device through online platforms like the App Store or Google Play. An AR app is an augmented reality application that offers augmented reality functionalities for a specific device or across multiple platforms.
On the other hand, a web app is an application that runs through a web browser on a computer or mobile device. Web apps are typically accessible over the internet and do not require downloading or installation. Instead, they are accessed by entering the URL of the web app into a web browser.
In general, there are several key differences between apps and web apps:
Availability: Apps are installed on a specific mobile device or desktop computer and can only be run on that device, while web apps are available over the internet on any device with a web browser.
Installation: Apps need to be downloaded and installed, whereas web apps do not require installation and can be accessed directly through a web browser.
Updates: Apps need to be manually updated by updating them on the mobile device or desktop computer, while web apps are automatically updated as soon as changes are made on the server.
Functionality: Apps can generally provide more extensive functionality as they can access the device's operating system and hardware. Web apps, on the other hand, are typically more limited in terms of functionality as they rely on the features provided by the web browser.
Do I need any special hardware or software for the AR Studio?
No that is a great added value of the XR Stager Cloud Solution platform. All management tools such as the 3D Asset Manager or the XR Stager Uploader and Converter and all production studios such as the Virtual Photo and Film Studio, the Virtual Reality Studio and also the Augmented Reality Studio in short AR Studio work on common office hardware and even on tablets and smartphones.
And no software needs to be installed either. All that is needed is a web browser and an Internet connection, WLAN or network connection to the XR Stager Cloud Server. The required computing power, working environment and software are conveniently and securely provided by the XR Stager Cloud Solution platform.