INDUSTRIAL METAVERSE SOFTWARE
Design of 3D Mixed Reality and Industrial Metaverse experiences: Without programming
Benefits
Cost-Efficiency: Reduces the need for physical prototypes and travel.
Speed to Market: Faster design and iteration cycles.
Global Collaboration: Overcome geographical limitations by bringing global teams into a single virtual environment.
Real-time Decision Making: Incorporate real-time data analytics and feedback into your industrial processes.
Safety Training: Conduct realistic safety drills in a controlled virtual environment.
Enterprise Metaverse? Just do it!
The Asset Manager within the XR Stager
The control center of your Industrial Metaverse.
The Asset Manager manages the digital twins of your real products ("Digital Twins", also "Digital Assets"): Using the search function, you can find them immediately, including all the information that is important to you. You can share the data or partial results with your specialist teams for collaboration (Global collaboration). Send them to external agencies for further processing. Or create films, photos or interactive presentations on your own – in-house. Simply forward them to the intuitive "Renderer" or "Showroom" modules in XR Stager.
By the way: XR Stager works via our cloud service, so WITHOUT software installation and WITHOUT super hardware; simply with your standard office computer.
By the way: even if you don't have 3D data yet, only 2D plans, photos or idea sketches, you can convert them into high-quality interactive 3D models. The integrated uploader&converter and our team of experts makes that very easy for you, too.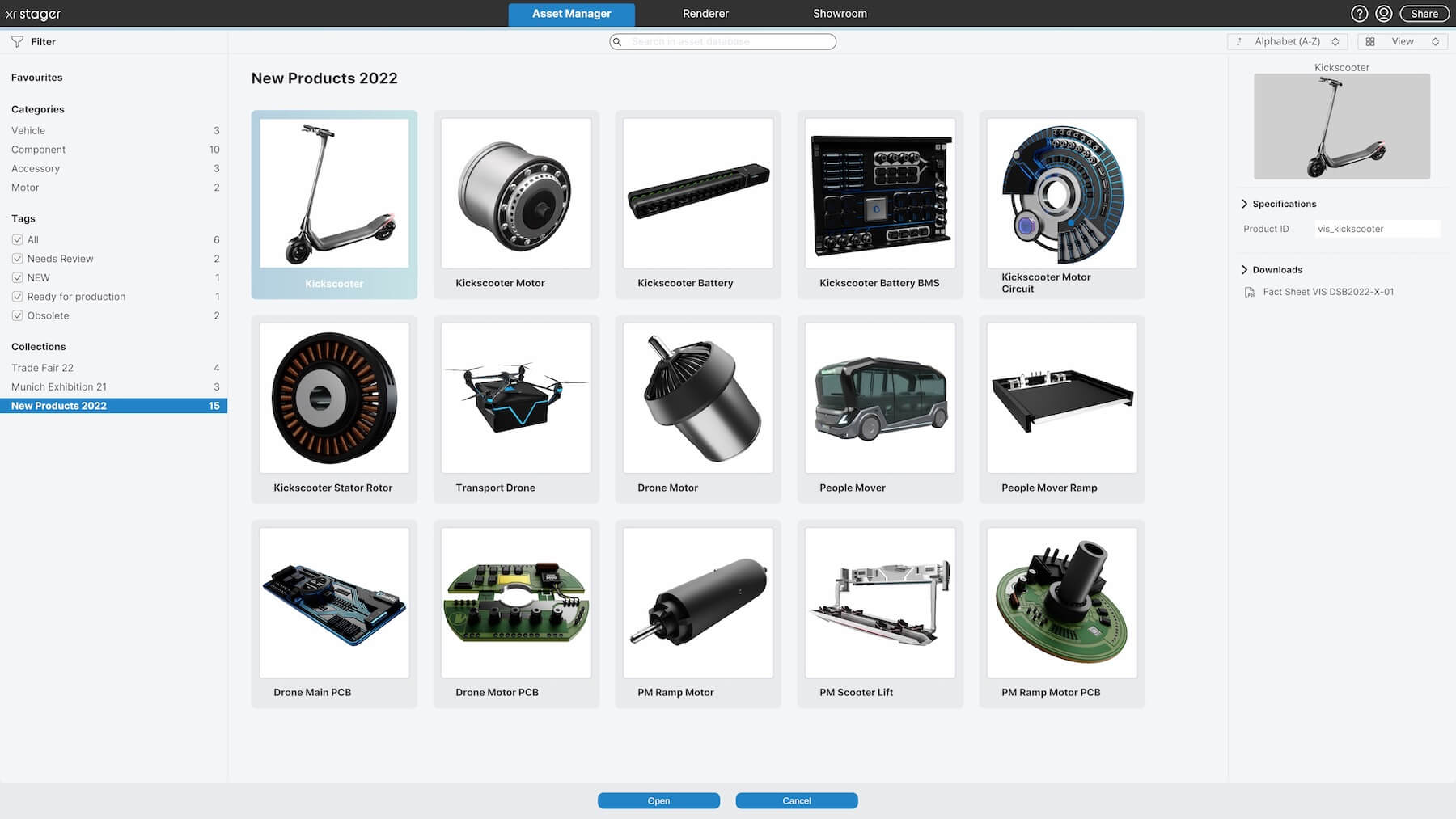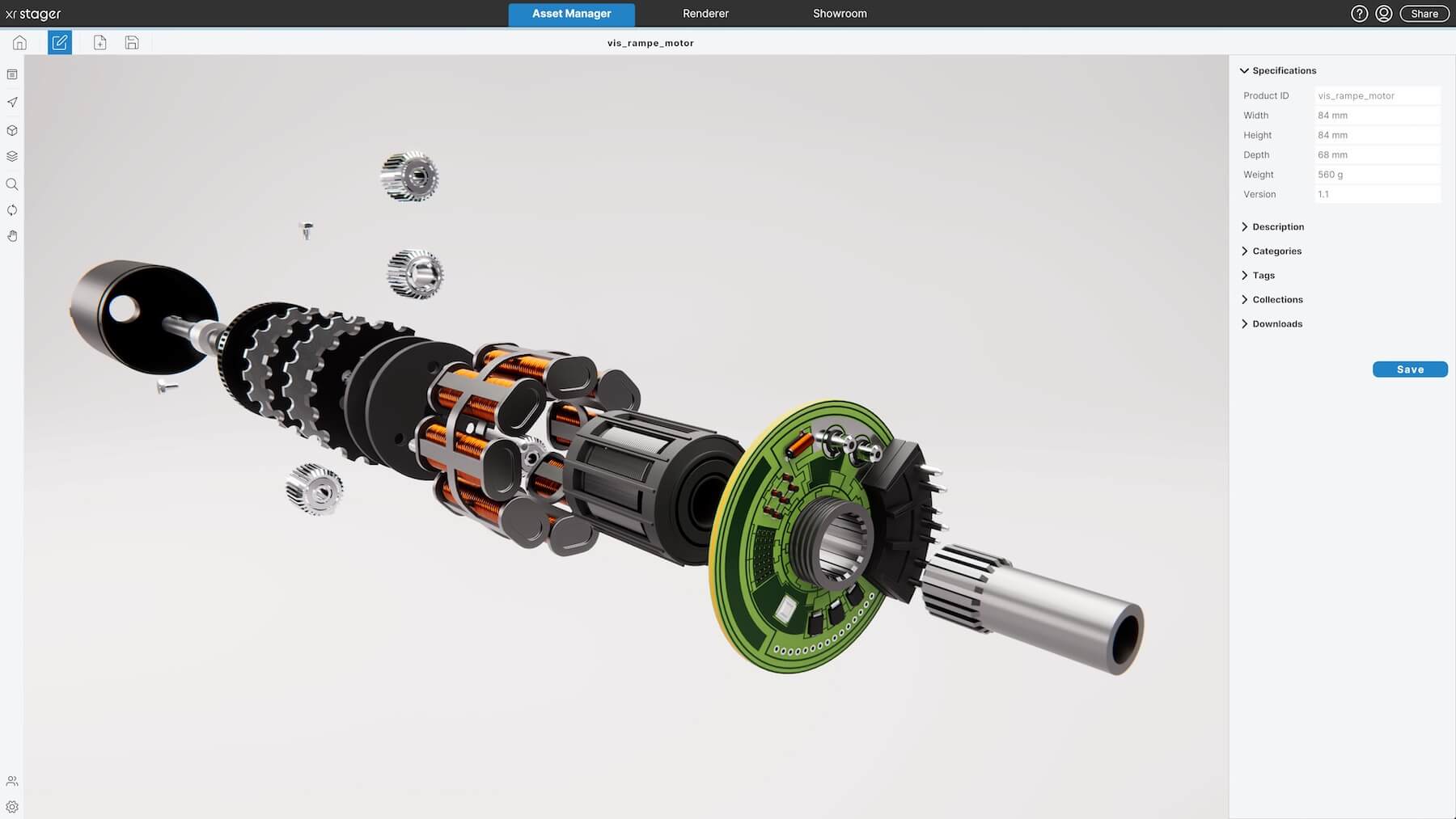 The XR Stager Rendering Engine.
Your photo and film studio in the Industrial Metaverse.
Your virtual photo and film studio – in-house! Because you can easily and quickly create brilliant photos (CGI) or product films in high-end quality from the digital twins of your products. Quite simple and intuitive and therefore also in-house, if it has to go fast, should remain secret or should be flexible. You save time and money WITHOUT having to forego high-end marketing quality.
Rendering is done almost in real time, WITHOUT long waiting! WITHOUT software installation and even WITHOUT expensive "super-computer" – because the XR Stager is a powerful and smart cloud solution with expert web service. That means: high quality hardware, know-how and data security, without you having to worry about it – from anywhere, comfortably via your web browser.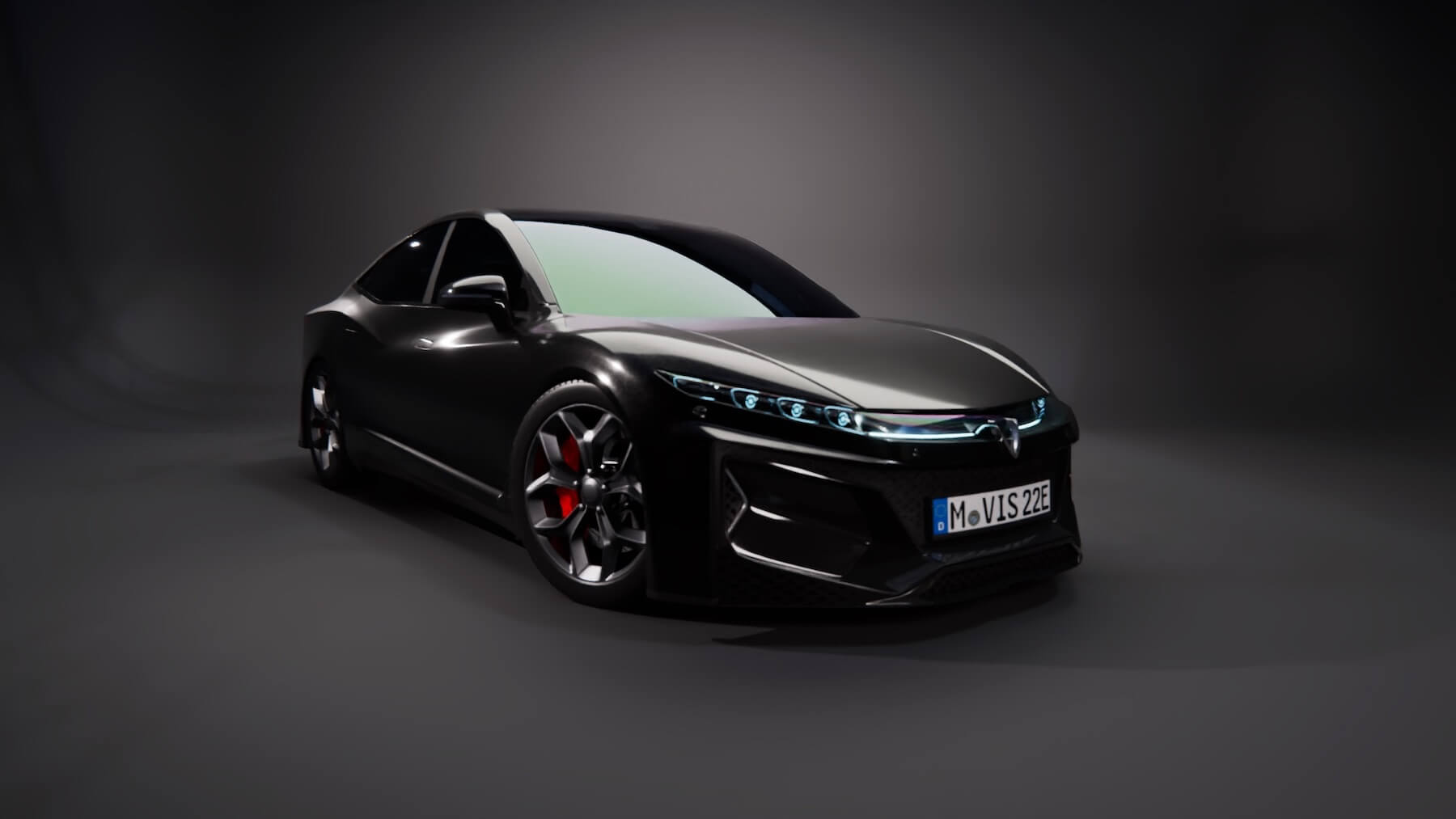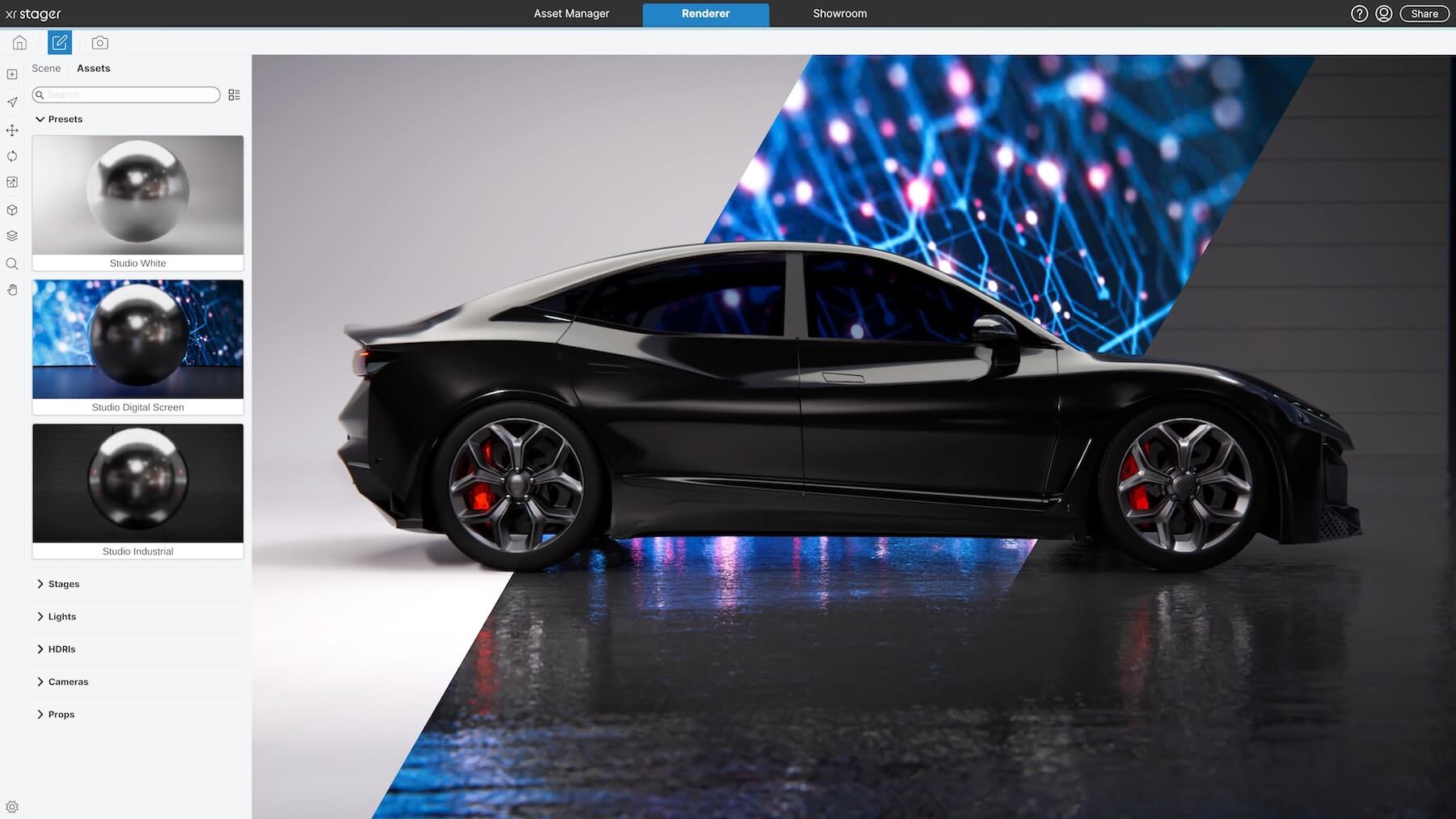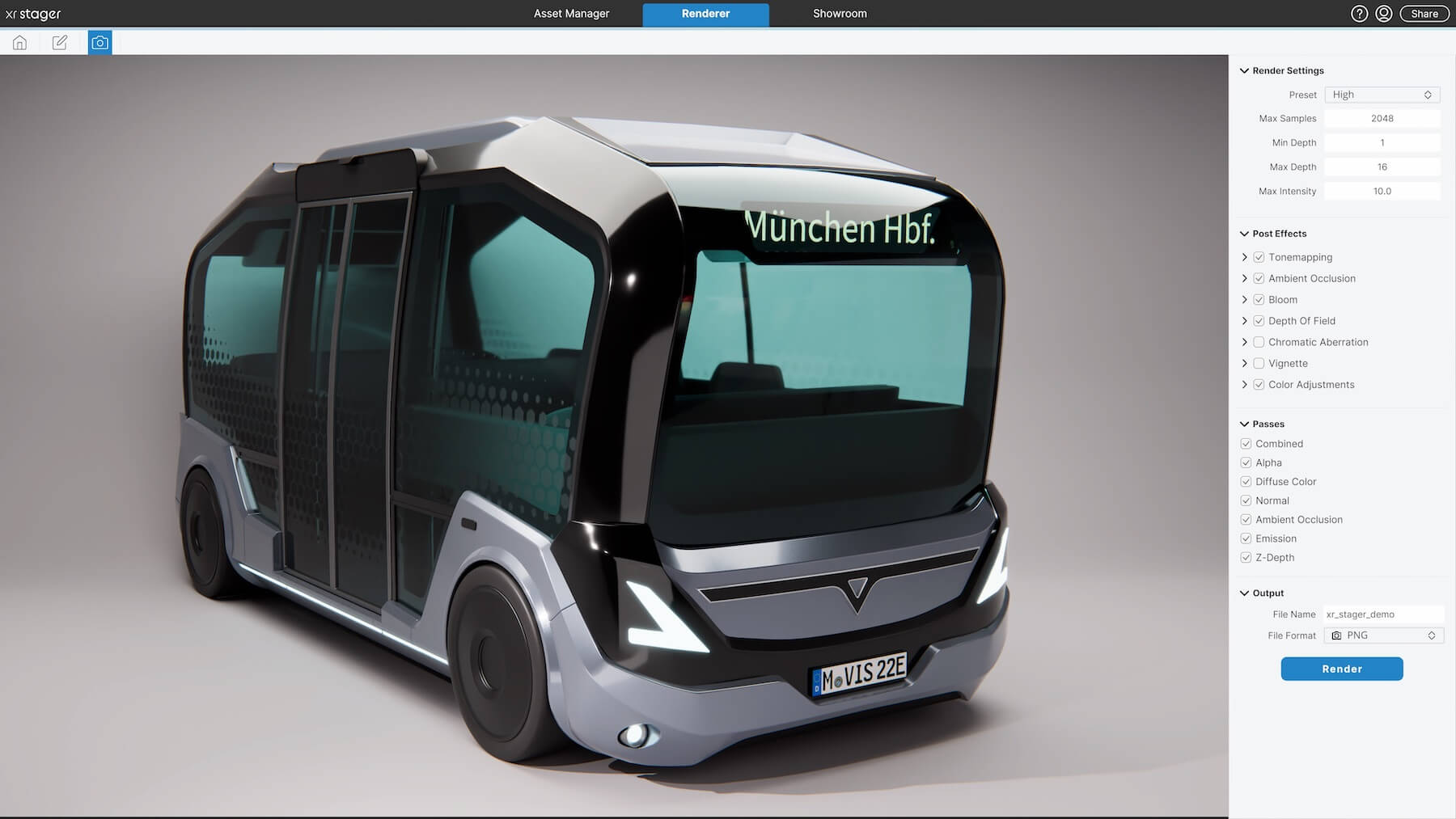 The XR Stager Showroom.
Your presentation and exhibition space in the Industrial Metaverse.
Show your Digital Twins in the most beautiful of all worlds – namely your individual brand world. In 3D real time with photo-realistic, physically correct quality. Conveniently via web browser WITHOUT software installation, WITHOUT expensive computers. The normal office computer, smartphone or tablet are completely sufficient – for you and your customer. Because XR Stager is a powerful, smart cloud solution.
You simply send an invitation link to your customer and present your products like never before: namely in 3D real-time. And: in your individual brand ambience. You are more agile than ever. You can present anywhere in the world. And shine – especially when millions are literally at stake.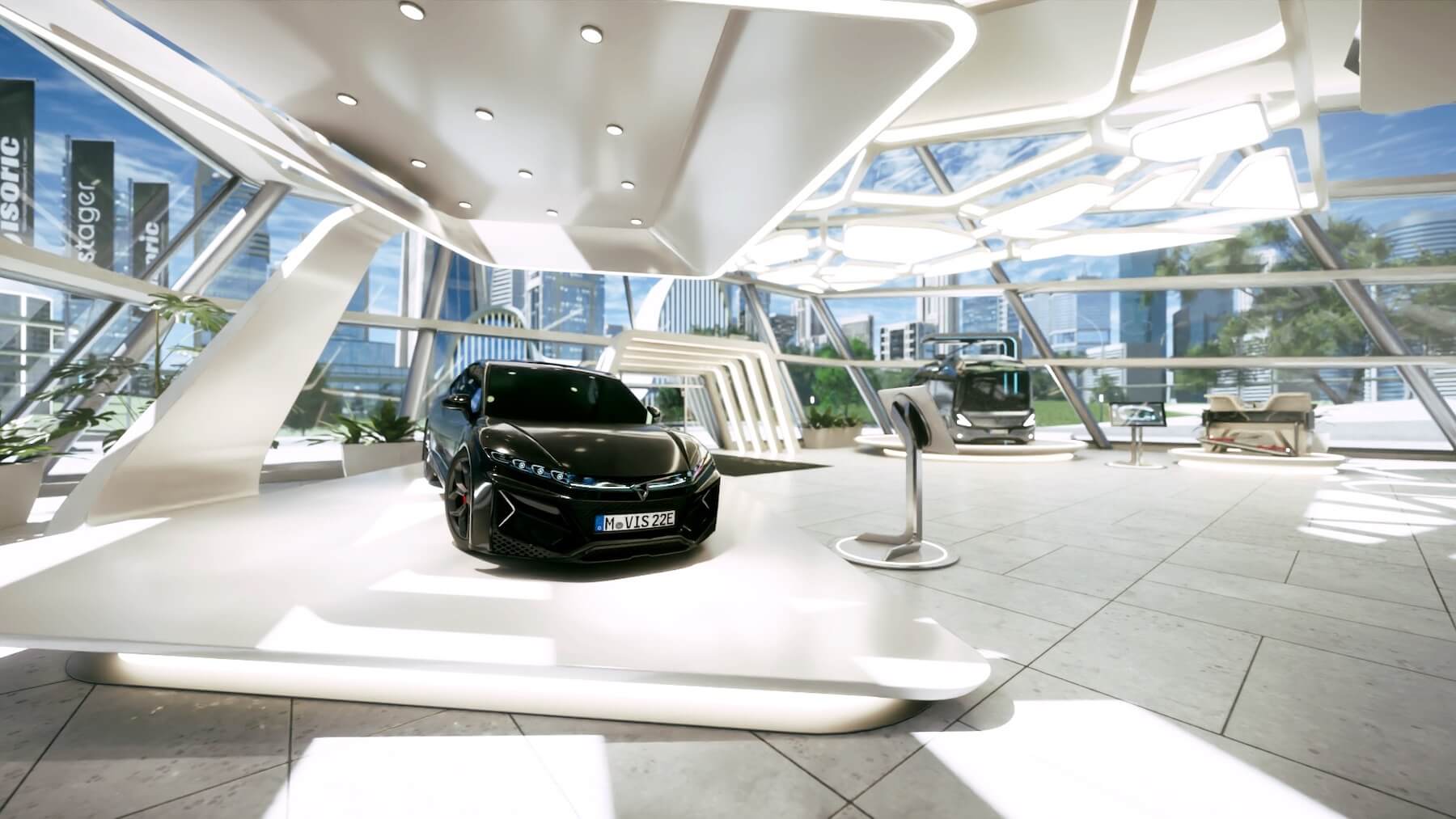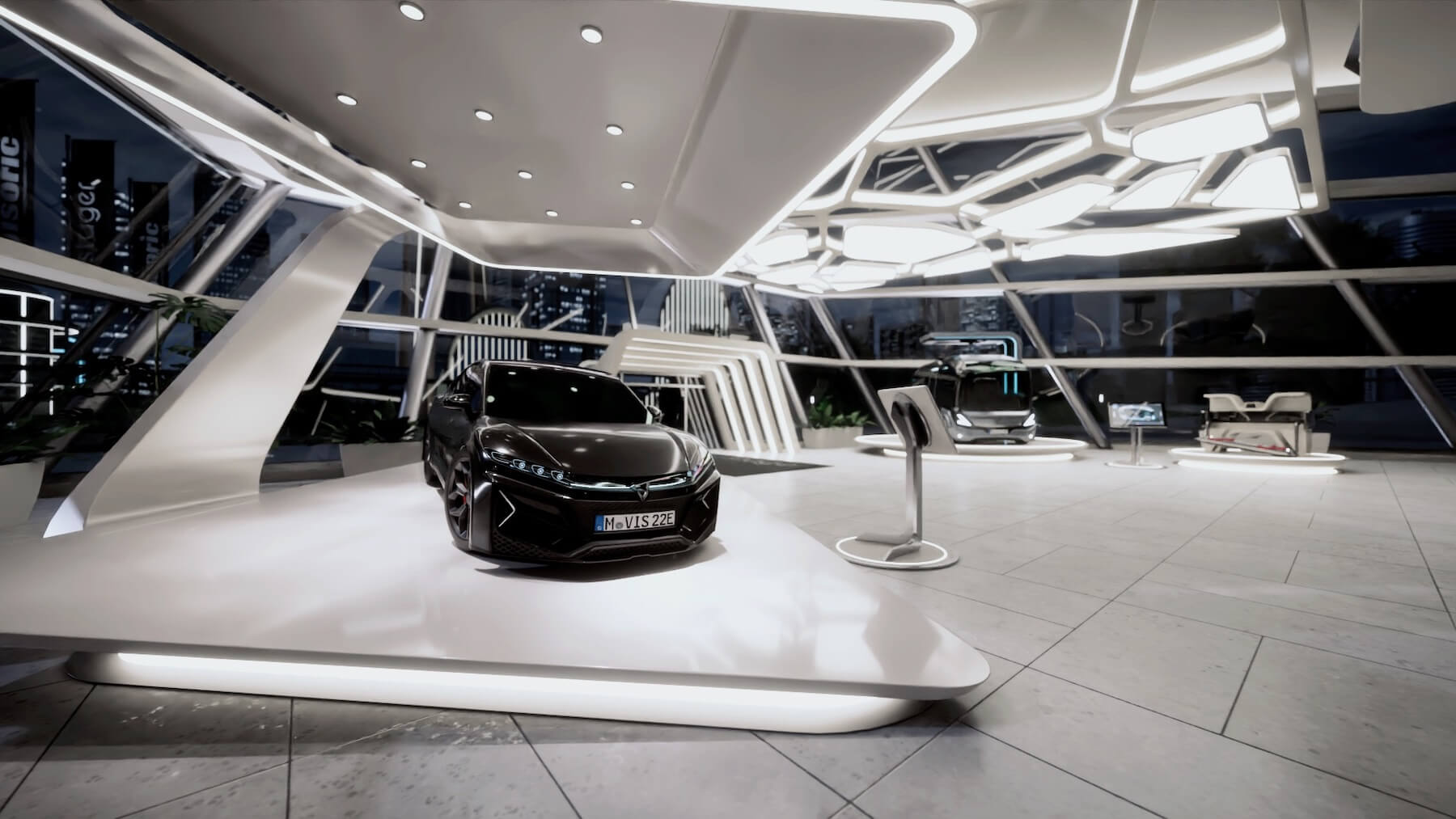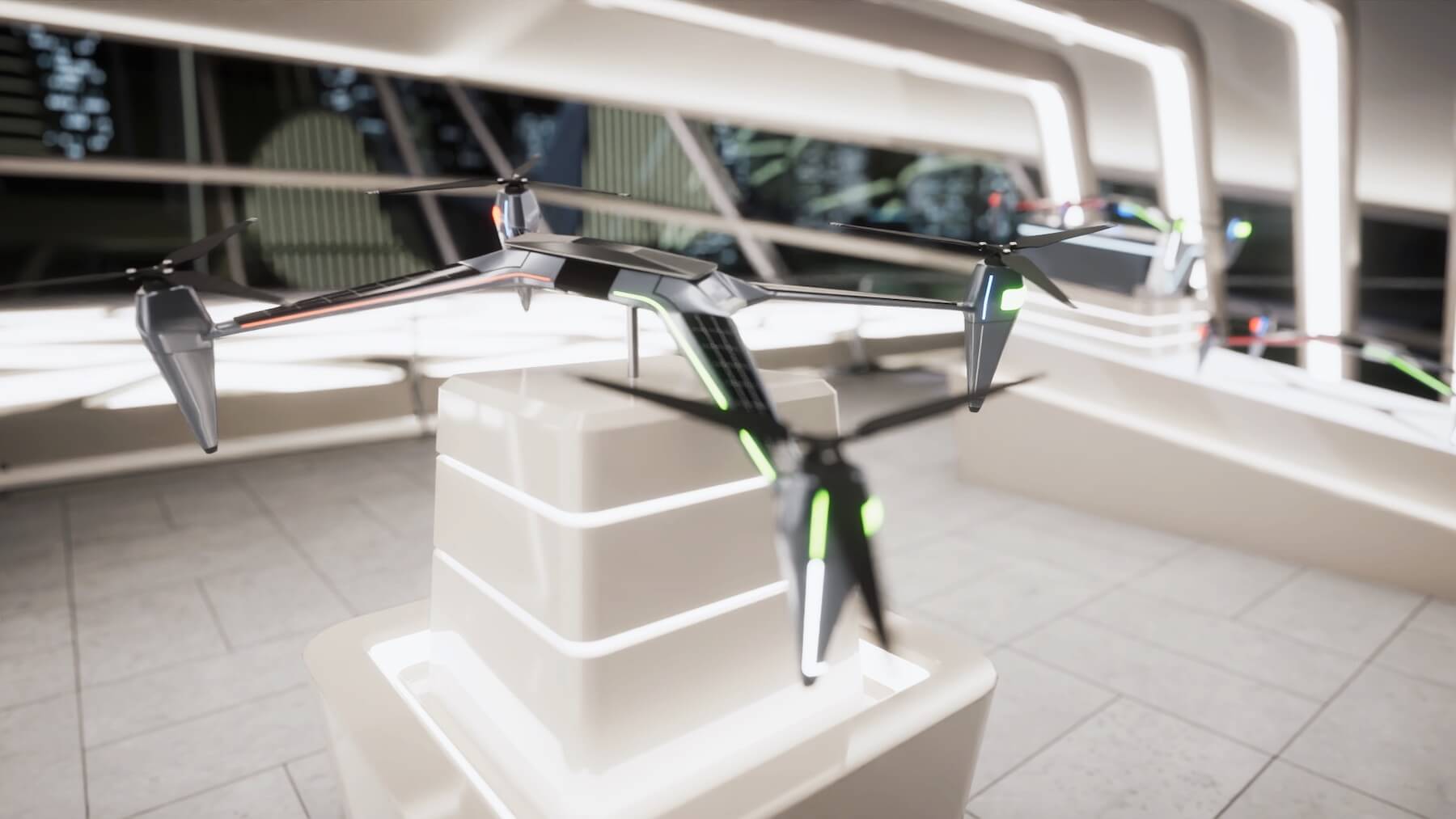 XR Stager: Industrial Metaverse in high end.
And very easy.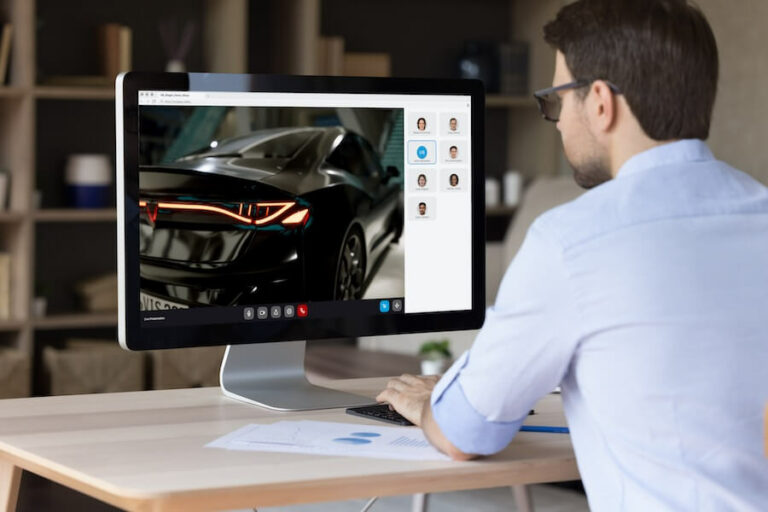 User-Story
Millions – in seconds.
Actually, we hate such lurid headlines. But it sums up exactly what we experience again and again.
Do you know this too? You want to present your new product in a fascinating way. In 3D. Because the customer is important – literally millions are at stake. That's why you hired an agency to create a great interactive 3D experience for your new product, a so-called 3D user experience, to make the product benefits and possibilities impressively tangible for the customer.
Then you realize: Your customer only has very weak computers on site. So you have to take expensive power computers with you or purchase them. Then, the customer simply cancels the appointment! Or he is so enthusiastic that he wants to show the presentation to other colleagues and therefore wants to keep the computer on site – this can also be quite problematic.
With XR Stager you simply send an invitation link to your customer. Since for him and for you completely standard hardware is enough. So you are independent of time and place, you can inspire immediately and now have the best prerequisites to get the project. Because the first impression is decisive. In many cases, it takes only seconds.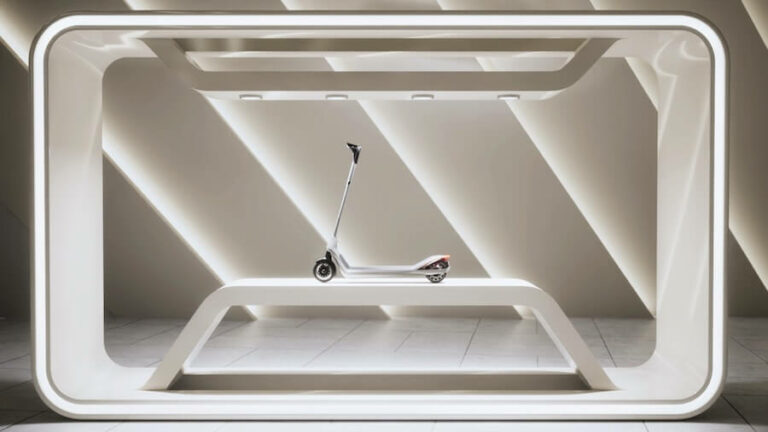 User-Story
Marketing-quality 3D movies and photos – created in-house.
A company is developing a great new product that it wants to present to its most important customers and corporate partners, as well as to internal decision-makers and development teams at an early stage of development. A picture says more than a thousand words – only: There is no picture yet – i.e. appealing visualizations that could be used in the presentation.
Until now, the company had only one option: it asks its expensively paid development team to create demonstration images during the actual work, or even small animation clips. Great pleasure? No. High cost? Yes.
With XR Stager it is now much easier, e.g. for an employee of the company's internal communication or another specialist department. He logs in with his access data, whether in the office or home-office. Without any software installation, simply via web browser. And with normal hardware – with XR Stager he doesn't need a "super computer" – but still receives professional quality. He selects the products he wants to present and has a digital high-end product photo generated in the system. He also has the choice of creating a video to embed in his presentation, or an interactive 3D presentation right away. Intuitive. Easy as pie.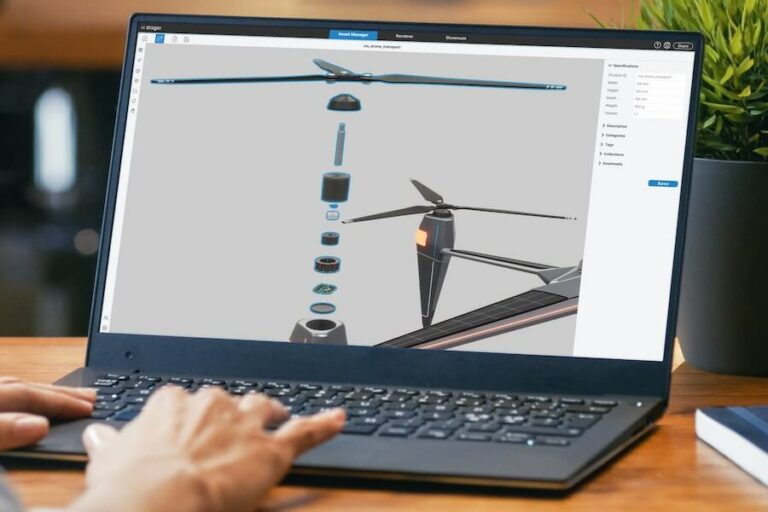 User-Story
Modify 3D marketing apps easily and quickly yourself.
How would it be if you could save yourself a lot of stress and a lot of costs when planning your trade fair? And at the same time provide your company with more security and additional added value?
The following example: An international supplier has a series of interactive 3D product apps created for the IAA, which help the booth staff to present in a playful and fascinating way. Content and user experience are planned, designed and programmed in advance. With massive effort. So far so good. Only: The internal product developers were also busy shortly before the trade fair, so the 3D data in the app no longer corresponds to the current status!
Until now, the customer had only two options: present outdated material at the trade fair – or spend a lot of money again to have complex applications rebuilt at short notice (if that is still feasible at all). XR Stager now makes updating interactive 3D product presentations a breeze. 3D content can be conveniently edited via the Asset Manager in XR Stager: Touchscreen Apps, Virtual Reality (VR) Apps, Augmented Reality (AR) Apps or Mixed Reality (MR) Apps. Simply replace the entire Digital Twin, or just components of it, with the correct content. Already everyone sees the latest version. This would even be possible during the trade show.
By the way: XR Stager is more than a software with cloud service. You benefit from a German team of experts in 3D extended reality: based in Munich, 15 years of experience in individual 3D real-time software programming, 3D virtual reality, 3D augmented reality, 3D mixed reality and thus also 3D Metaverse. Our team of experts will also gladly take care of the integration of XR Stager into your existing infrastructure. As well as further functionalities or adaptations for your specific requirements.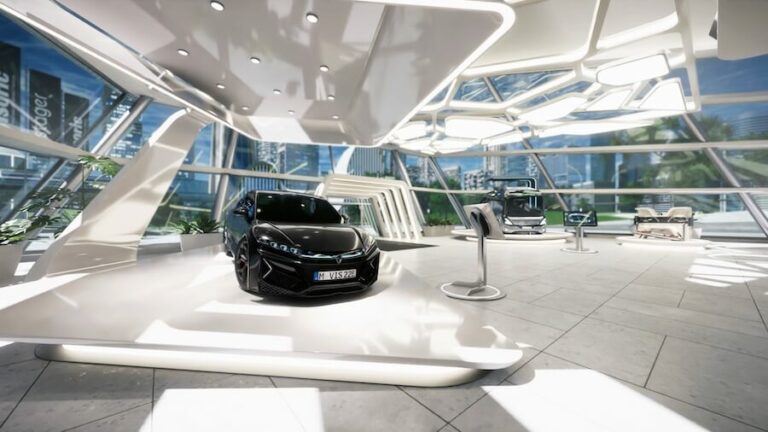 User-Story
Hybrid trade fair designed once, both worlds covered.
Due to a current event, a customer decides to plan a hybrid trade show, i.e. real and virtual. The trade fair stand will feature murals, flyers, trade fair videos and interactive 3D product experiences, among other things. Everything was completed on time, and the board is thrilled with the virtual presentation. However: He still has change requests regarding the design.
Until now, the customer had to make these corrections in both worlds. With corresponding effort, communication, correspondence. With the XR Stager, everything is digitally planned and intelligently linked, which means: if the graphic on the wall or the 3D app on the stand changes, it is automatically updated in both worlds.
And what is of advantage for the customer: the backend shows exactly WHERE the main points of interest of his individual customers lie and WHAT was shown in the virtual One 2 One Session at WHICH exhibit by WHICH experts and for HOW long – essential information for customer relationship management.
Of course, the virtual showrooms of the XR Stager are available around the clock, 24/7: therefore, the customer can continue the conversations in the virtual space exactly where they ended at the real trade show.
In principle, our offer is quite simple:
Asset-Manager: Control center and content management system for your digital twins
Rendering Engine: Your virtual photo and film studio for brilliant photos and films based on your 3D data
Showroom: The virtual exhibition, presentation and trade show room for your products. As well as powerful event and planning tool for hybrid trade shows.
What can you expect in the demo?
A personally guided demo only for you via screenshare and streaming link – approx. 30 min.
Your questions are priority: Whether and how the XR Stager can solve your challenges, and how we adapt it to your individual infrastructure and your wishes.
Extended Reality – XL Future
Your company – NEW
Your company becomes even more attractive: for customers (sales). For your own employees (retention). And for the labor market (employer branding).
You – Next Level
With Extended Reality you emphasize your role as an innovator and bring not only your company but also yourself forward.
Sales-Boost
You can inspire your customers anywhere in the world. And: Your customers only see what really interests them (in contrast to an image film). Customer wishes and goals are the focus, you achieve incomparably more attention and your company higher significance.
Marketing-Boost
Your products and your brand world can be experienced sensually. Anywhere in the world, at the touch of a button. And by the way: The data is easily adaptable for different cultures.
Understand products instantly
Your customer sees your product in 3D, that says more than a thousand words. Especially for products that require explanation.
Customized access rights
You control who has access: Employees, customers, journalists. Individuals or groups. This way, even prototypes can initially be released only to a few.
Lower flop rate
Improve user experiences for products that previously only existed virtually. Check the sales probability – in advance.
Significant savings
With XR Stager's Virtual Showroom, you can sell even without a real, physical trade show. You gain valuable data for your CRM. And you can also create high-quality films and images on your own, without external costs.
What standards Web3, GPU streaming or WebGL streaming does the XR Stager use?
What sets the XR Stager apart is the intelligent combination of the latest and most promising technologies in the field of real-time 3D Extende Reality and the Industrial / Enterprise Metaverse. This includes e.g. Web3, GPU and WebGL streaming. The focus of the XR Stager developers is on two premises - the XR Stager Cloud Solution platform must offer its users the best possible 3D real-time streaming experience while being easy to use, resource efficient and highly sustainable.
What is the Nvidia Omniverse?
Nvidia Omniverse is a platform for virtual and augmented reality applications developed by the Nvidia company. It provides tools and services that enable developers to create and publish immersive applications that are available on different platforms such as PC, smartphone, tablet or virtual reality headsets.
Nvidia Omniverse offers features such as 3D modeling, animation, physics simulation, and rendering, among others, that enable the creation of realistic and interactive applications. The platform is also capable of processing and visualizing data in real time, making it a suitable platform for applications in areas such as architecture, industrial design and media production.
Nvidia Omniverse is a cloud-based system that allows developers to access the platform and publish their applications from anywhere. It is also possible to have multiple users working on an application simultaneously and share changes in real time.
Using Nvidia Omniverse usually requires powerful hardware to render the applications in high quality and with as little delay as possible. This usually includes a powerful computer with a fast CPU and a powerful graphics card from Nvidia, such as a GeForce RTX.
However, the exact hardware requirements will depend on the type of application and settings you use. In some cases, you might be able to get by with less powerful hardware if you're using less demanding applications or less detailed settings, for example. However, to ensure that you get the best performance possible, it is recommended that you use powerful hardware.
It's also possible that you can use Nvidia Omniverse via the cloud without owning any hardware. In this case, the applications will run on powerful servers and the result will be transferred to you. This could be a good option if you don't have the required hardware or if you only want to use the applications occasionally.
Is the XR Stager a 3D real-time pipeline?
Yes, the XR Stager is a real-time 3D pipeline that allows you to create, edit and visualize 3D content in real time. The XR Stager leverages the power of Nvidia's graphics cards and provides a set of tools and features to manage, create, edit and visualize 3D content and 3D digital twins in real time.
The XR Stager is a cloud platform designed for professional applications such as the design the development of virtual products, architectures and other 3D content. The XR Stager can easily be used by users who have no special programming or design knowledge.
XR Stager and its production studios, such as the virtual photo and film studio, the virtual showroom and the AR and VR studio, do not require any special, powerful hardware or software to be installed.
Use is via the web browser. The necessary computing power, software and working environment are conveniently and securely provided by the XR Stager Cloud Solution platform.
Overall, XR Stager provides a powerful real-time 3D pipeline that allows users to manage, edit and visualize 3D content in real time.