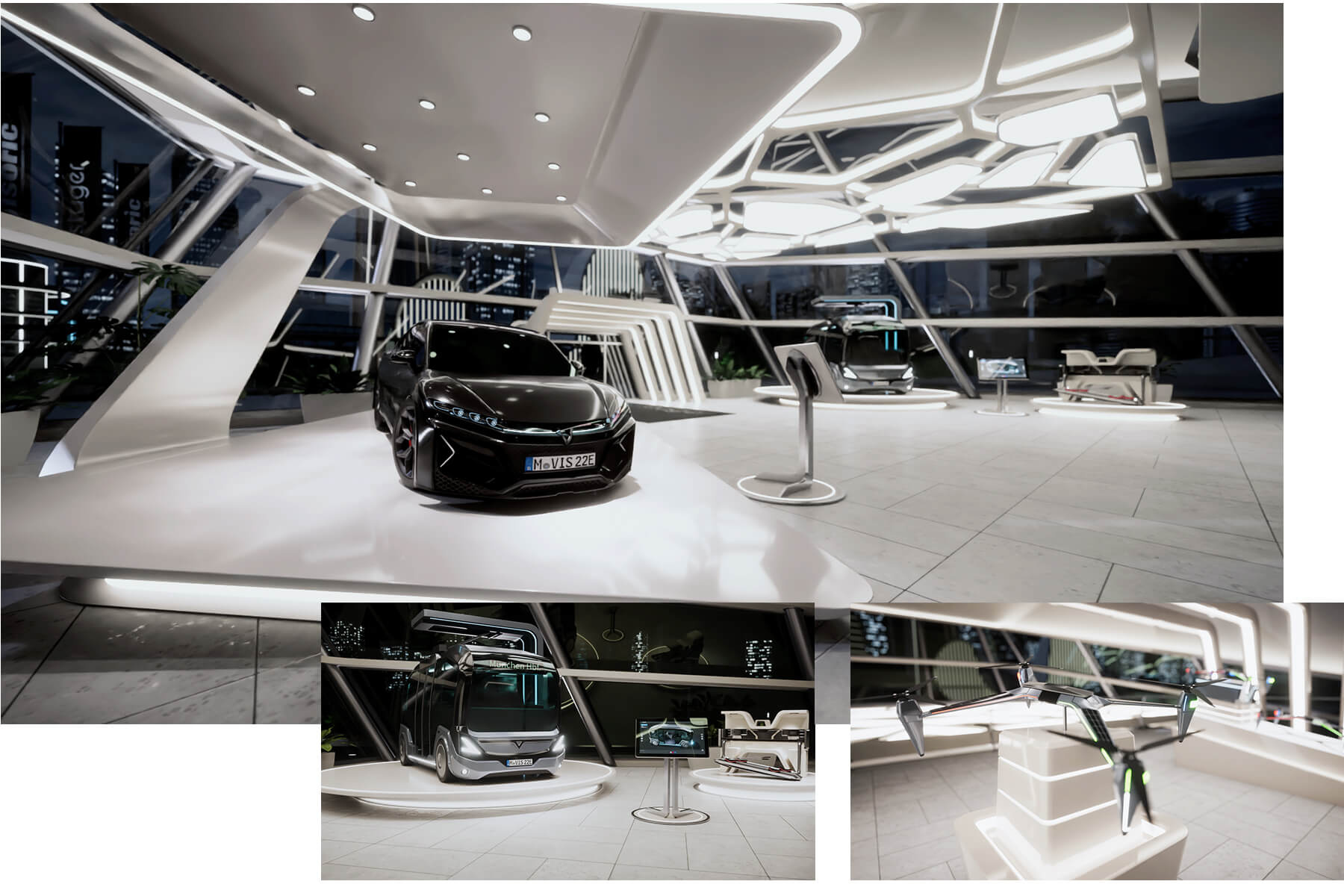 XR Stager
Showroom
The presentation room in your Industrial Metaverse.
Imagine: Your products photorealistically and in 3D real time, and in the most beautiful of all worlds: namely your individual brand world. With the XR Stager Showroom, this is also possible in-house, because it's child's play. WITHOUT software installation and WITHOUT expensive super hardware, because you and your customer only need a normal office computer.
With hybrid trade shows, i.e. virtual plus real, you only have to make changes once, in the digital set-up, and the playout in both worlds is automatic. And if travel costs and trade show setup are just too much at the moment: Fascinate your customers virtually and in high-end. Wherever he and you happen to be.
The Creator Mode is the BACK STAGE of the XR Stager Showroom – the digital back end and the planning and design tool for your virtual or hybrid trade fair, or your digital show. Here, you manage and record the virtual 3D model of your trade fair stand / showroom, e.g. with graphics, 3D renderings, videos, digital twins and trade fair apps of various kinds.
Via the integrated app launcher, you synchronize and update your apps in virtual and real space. In addition, you collect important marketing information about your virtual One 2 One trade fair and showroom sessions with our built-in analysis tools. This makes success plannable and measurable.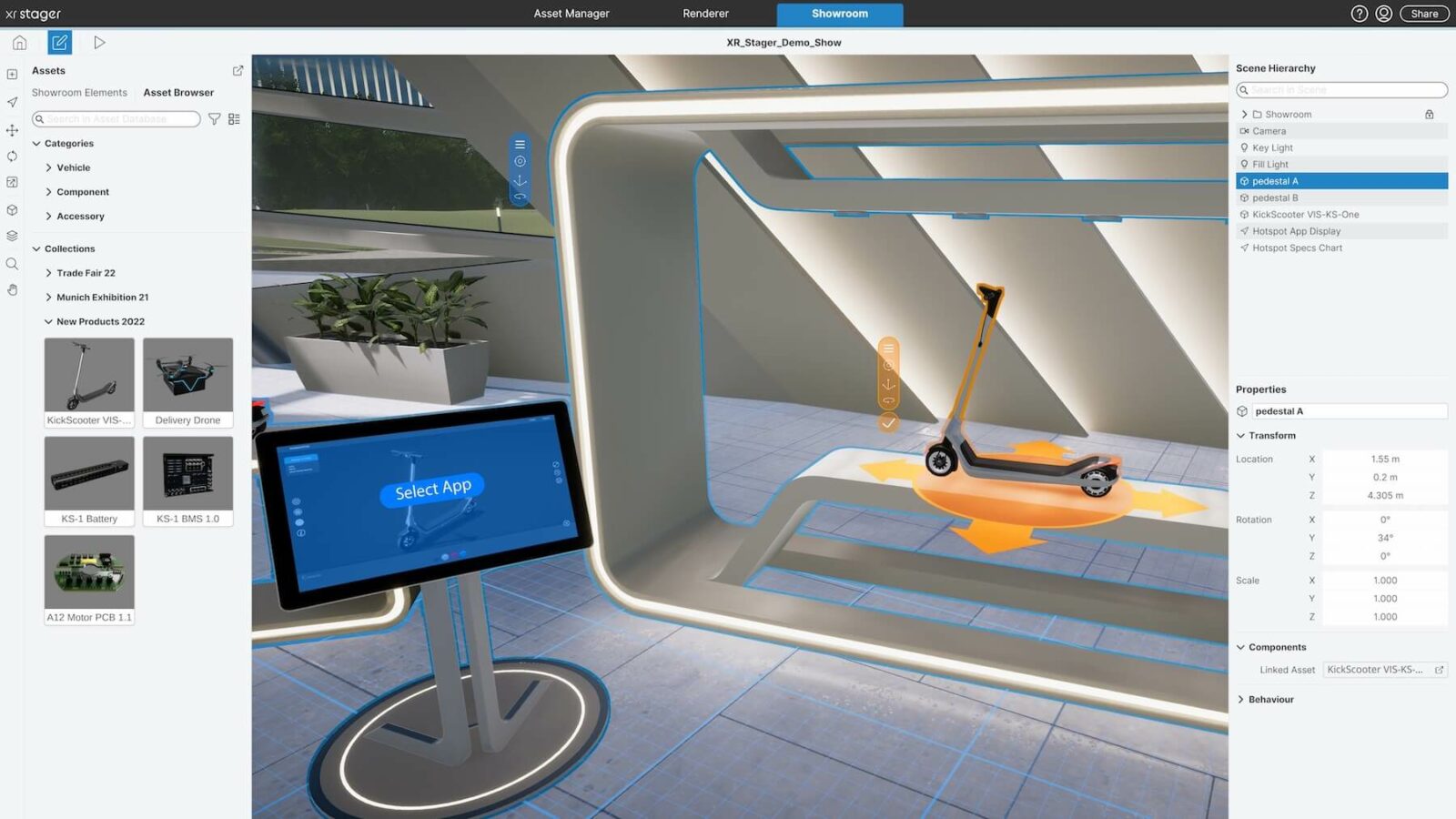 The live mode in the XR Stager Showroom is the STAGE, i.e. the "stage" on which the virtual or hybrid show plays. From here you broadcast live – via streaming link and interactively to your customer's web browser. For a One 2 One session, for larger public virtual events to several customers at the same time.
Our hi-tech streaming technology ensures that your show reaches your customers "smoothly". At the same time you can stream over the integrated chat function or established corporate chat tools such as MS Teams, Google Meets or Zoom to chat with your customers and incorporate customer requests directly into your live presentation.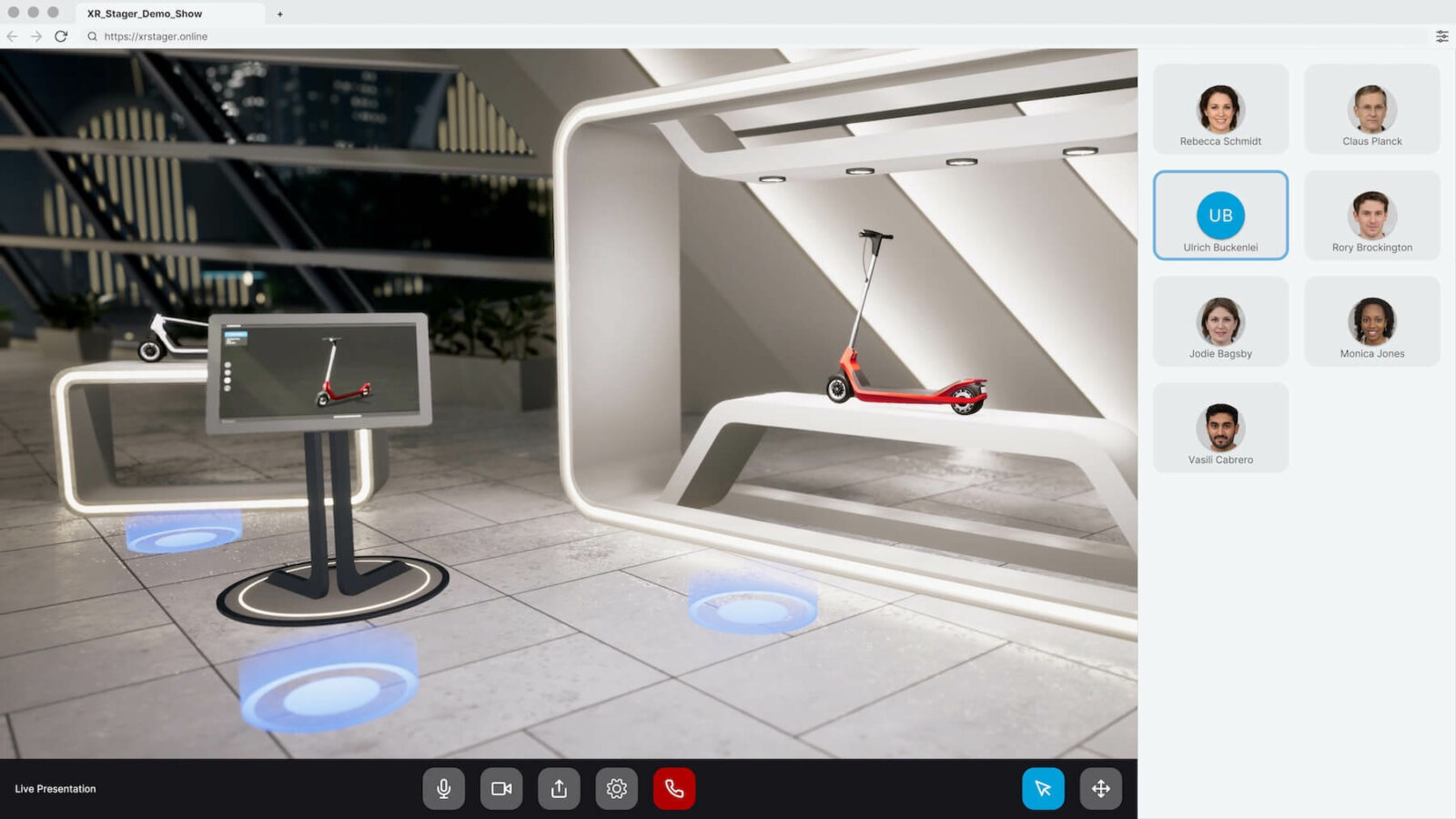 The showroom in the XR Stager can do more:
Branding
Your view in the backend: simple and intuitive, clearly arranged and designed in your branding
Data directly from the Asset Manager
You can easily transfer your 3D data within the system: from the Asset Manager directly to the showroom.
Scenes/rooms selectable
You can choose from predefined rooms / worlds where you want to present your products. Or have your individual world designed by our experts – free or based on existing data.
Easy to design yourself
Easy and intuitive to use, so you can design presentations in-house. WITHOUT software installation, WITHOUT expensive computers.
Live Stream
The view for your customers in the frontend: for fascinating live streams, i.e. tours guided by you or your sales department – on computer or tablet.
Global
Fascinate presentations to clients anywhere in the world. You simply send an invitation link.
Your customer controls
Using a mouse or touchscreen, your customer can navigate the 3D world. Highest attention and engagement for highest completion rates.
Chat function
Use the built-in chat feature or their established enterprise chat tools like MS Teams, Google Meets or Zoom.
In principle, our offer is quite simple:
Asset-Manager: Control center and content management system for your digital twins
Rendering Engine: Your virtual photo and film studio for brilliant photos and films based on your 3D data
Showroom: The virtual exhibition, presentation and trade show room for your products. As well as powerful event and planning tool for hybrid trade shows.
What can you expect in the demo?
A personally guided demo only for you via screenshare and streaming link – approx. 30 min.
Your questions are priority: Whether and how the XR Stager can solve your challenges, and how we adapt it to your individual infrastructure and your wishes.
Your advantages in the Industrial Metaverse
Minimize flop rates
Do market research, and test products before investing a dime in production – at the Digital Twin, the user experience can be continuously optimized.
Minimize costs
Real trade shows and exhibitions are no longer mandatory: since you can also present everything virtually with the showroom. And high-quality images and films can also be created independently with the XR Stager – without external costs.
Increase sales
Product presentations are much more exciting, interesting, convincing in 3D and in real time. And thus incomparably more sales-boosting.
Emotionalizing marketing
You can present your products in the most beautiful of all worlds, namely your individual brand world. In the Industrial Metaverse, almost anything is possible.
Simplify communication
You can explain products in need of explanation long and wide. Or you can simply show how it works in 3D and in real time – these images say more than a thousand words.
Tailor access rights
Who has access to your Industrial Metaverse is up to you. That's because with XR Stager, you can tailor access rights just as you can tailor editing options (view, download, forward, edit, etc.).
Your Company – Next Level
Your entry into the Industrial Metaverse is a big step into the future. Your company will become even more interesting to employees, customers and investors.
You – Next Level
We make it easy for you to enter the Industrial Metaverse – and take your next big career step: because you underscore your role as an innovator.