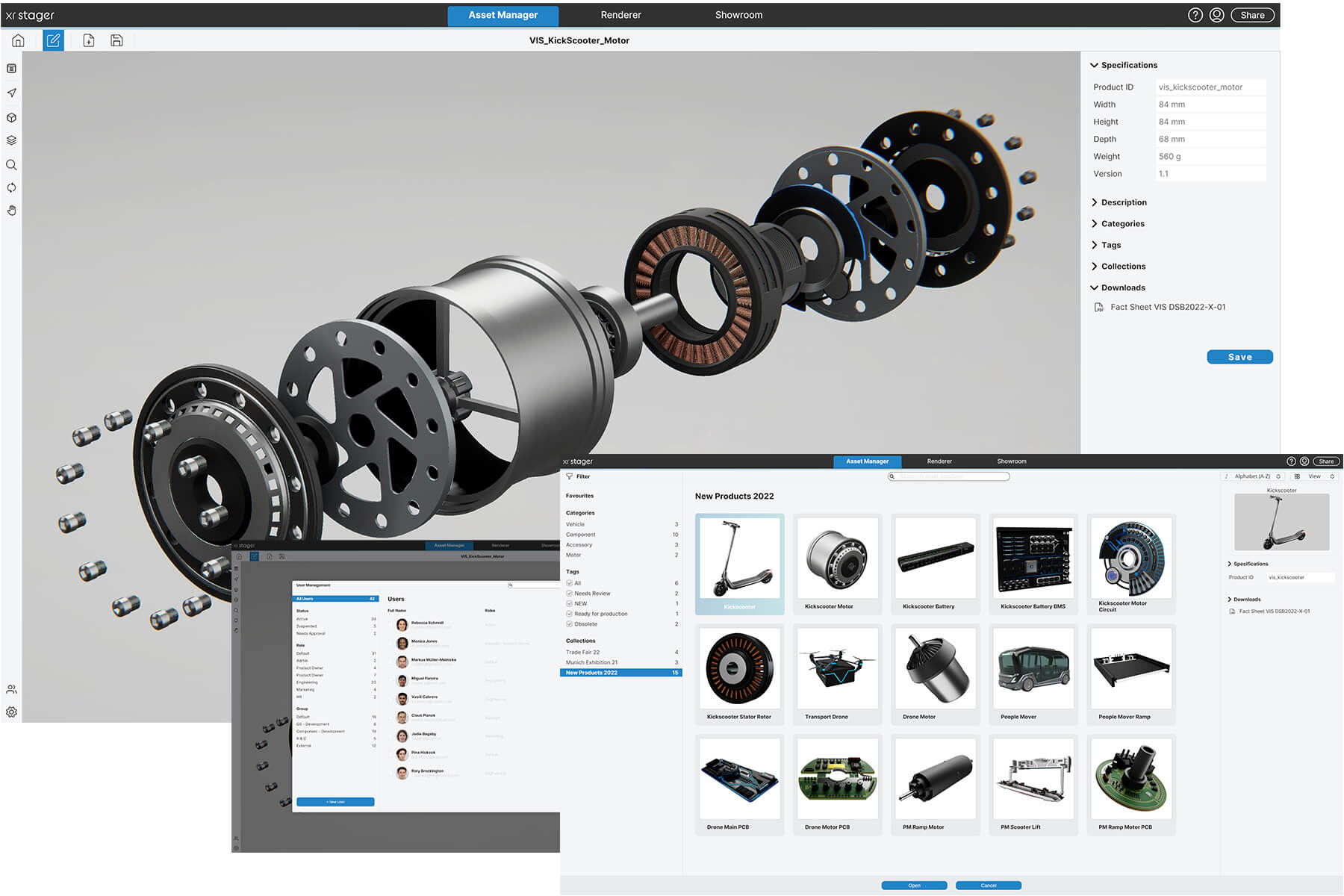 XR Stager
Asset Manager
The control center of your Industrial Metaverse
The Asset Manager contains all your digital twins (also called "assets"), including all information. Everything can be found immediately using the search function; you maintain an overview and avoid duplicate work. And just like in a control center, you easily release data to 3D agencies – or process it in-house – simply within the system (in the "Renderer" or "Showroom").
You decide who gets access and with which rights. By the way: With your digital twins in the Asset Manager, you can also run user experience tests before a product actually exists. And continuously optimize and retest. For significantly lower flop rates and a higher probability of success.
Data library (3D asset management)
Here you can build your central 3D asset database. With all your products including variant management: i.e. colors, materials, designs, features. You can integrate metadata. Tags. Know-how in the form of texts. Marketing content for trade shows. Technical data sheets and factsheets in the form of PDF, images, videos, etc.
You can categorize, sort, filter and define dependencies and hierarchies as you wish. And: thanks to the clear overview, you avoid duplicate work.
User management
This is where you determine who has access to the XR Stager, and with what rights. Who can change, forward, download or only view data. And who gets access to which product version: for example, if the current status of a project or prototype has not yet been released to everyone.
You can divide users into groups and, for example, give sales a different access than marketing. Of course, you can also combine users from different departments into one group.
And you can create corporate design templates and templates so that the uniform look and feel from your style guide is maintained.
Control center for data distribution
For further processing of the data, you can connect your Asset Manager directly to your 3D agency: simply by linking to the corresponding product.
Or you can simply handle the further processing yourself, in-house with your specialist department: one click and the data is in the system's "renderer", your virtual photo and film studio. Here you can create high-resolution images and videos surprisingly easily and quickly, or have them created. Or the data goes directly to the "showroom": for fascinating interactive 3D presentations – with multiplayer function if desired.
Watch video
Watch our instructional video on XR Stager Asset Manager here. (German)
More functions and features of your digital asset manager
Search function
Extensive search function, even within the metadata of a product. Perfect overview and transparency of your digital assets (digital twins).
Sort / Filter
Display search results in any order and sorting. You can define specific properties, in ascending or descending order.
Send to Renderer
One click, and your 3D data is in the renderer, within the same system, to easily and quickly create high-resolution images and videos.
Send to Showroom
Present your data directly in Asset Manager or send your 3D data to Showroom, even within the system. For perfect 3D real-time presentations in your individual brand world.
Easy sharing
Share data quickly: simply get to the corresponding product (Digital Twin) via web link, incl. all important info. E.g. during a meeting.
Import of additional data
You can assign additional files to each product and of course share them. E.g. factsheets, technical data sheets, PDFs, images, videos.
Custom categories
You can create your own categories and sort the products accordingly. For even better overview and findability.
Tag Management
You can create your own tag list. Your products (the Digital Twins) can also be tagged with multiple tags, then they will appear in multiple filters.
User rights
You determine who gets which rights: e.g. to view, download, forward or even edit or correct.
Access rights
For example, you can give sales a different access than marketing. Or differentiate between internal and external access, e.g. for prototypes that have not yet been published.
Project levels
You can release certain product versions only for certain groups. For example, if the internal release for all or several users has not yet taken place.
Defining groups
You can divide users into groups, according to any criteria. Of course, you can also combine individual users from different departments into one group.
In principle, our offer is quite simple:
Asset-Manager: Control center and content management system for your digital twins
Rendering Engine: Your virtual photo and film studio for brilliant photos and films based on your 3D data
Showroom: The virtual exhibition, presentation and trade show room for your products. As well as powerful event and planning tool for hybrid trade shows.
What can you expect in the demo?
A personally guided demo only for you via screenshare and streaming link – approx. 30 min.
Your questions are priority: Whether and how the XR Stager can solve your challenges, and how we adapt it to your individual infrastructure and your wishes.
Your advantages in the Industrial Metaverse
Future proof
The Industrial Metaverse is the technology of the future. Your company will benefit in marketing and sales and also become even more attractive to employees and the job market.
Marketing Boost
Present your products emotionally as never before, in 3D and in real time and in your individual brand world. This is how you create entirely new brand experiences.
Sales Boost
Extended Reality takes your sales to a new level. You can present fascinatingly and thus also sell significantly better. Anywhere in the world, simply by invitation link.
Instant comprehensibility
Even with products that require explanation, a picture is worth a thousand words, and with a real-time 3D experience, almost anything can be presented in an instantly understandable way. And more convincingly than ever.
Individual access rights
You define access to your product and brand portfolio as you wish. For individuals, for groups, for internal or external users. Of course, also the editing rights of the data.
Minimize flop rates
Simply test products that don't even exist yet virtually. This way you can continuously optimize the user experience and thus also significantly increase the probabilities of success.
Minimized costs
With the XR Stager, you can also create marketing-quality movies and images on your own, without external costs. Exhibitions and trade fairs can also be displayed virtually very well.
Your profiling
You can now make the difference and integrate Extended Reality into your business with ease. This will clearly distinguish you as an innovator.
What does asset management mean?
In simple terms, a digital asset is a product or a process of your company that is represented in digital three-dimensional form (one can therefore also speak of 3D asset management). Including all associated information, such as technical data or product specifications. Accordingly, 3D asset management is a smart and simple way to manage your digital portfolio (your digital 3D assets). In XR Stager's Asset Manager, every product can be found immediately using the search function. In addition, you can precisely define access rights yourself by person, department or group, and of course externally. You also determine who may only view, download, or also forward or change data. Like all applications in XR Stager, the Asset Manager is very easy and intuitive to use.
How does my existing data get into the Asset Manager?
We know that you already have enough to do and can't take care of every technical detail - that's why we're happy to help you convert the data or even do it for you completely. Asset Manager includes an integrated uploader&converter that makes things very easy with the help of automated and semi-automated processes, as well as our AI technology and experienced team of experts. All kinds of data can be converted here: 3D CAD data, polygonal 3D data or even simple 2D plans, photos, or even just idea sketches. These are simply uploaded to the XR Stager account, and our team of experts creates perfect, multi-functional, photo-realistic, real-time 3D data from them, which you can access and retrieve in the Asset Manager at any time.
What is behind the XR Stager Uploader & Converter?
This is where modern automation technology meets artificial intelligence (AI) and our team of Extended Reality (XR) experts. You simply register your conversion job via the upload form in the XR Stager account and attach your source data, descriptions and references. Afterwards, one of our experts will discuss your project with you personally. And as soon as your digital twin is converted, you will receive a notification.
What data formats does the Uploader & Converter accept?
Almost any format you have available: 3D model data formats such as FBX, OBJ, and others; CAD data formats such as STEP, CATIA V5, Creo, and others; also 2D PDF files and even simple idea sketches can serve as templates. If you have a selection of data available, we will be happy to advise you on which formats are most suitable.