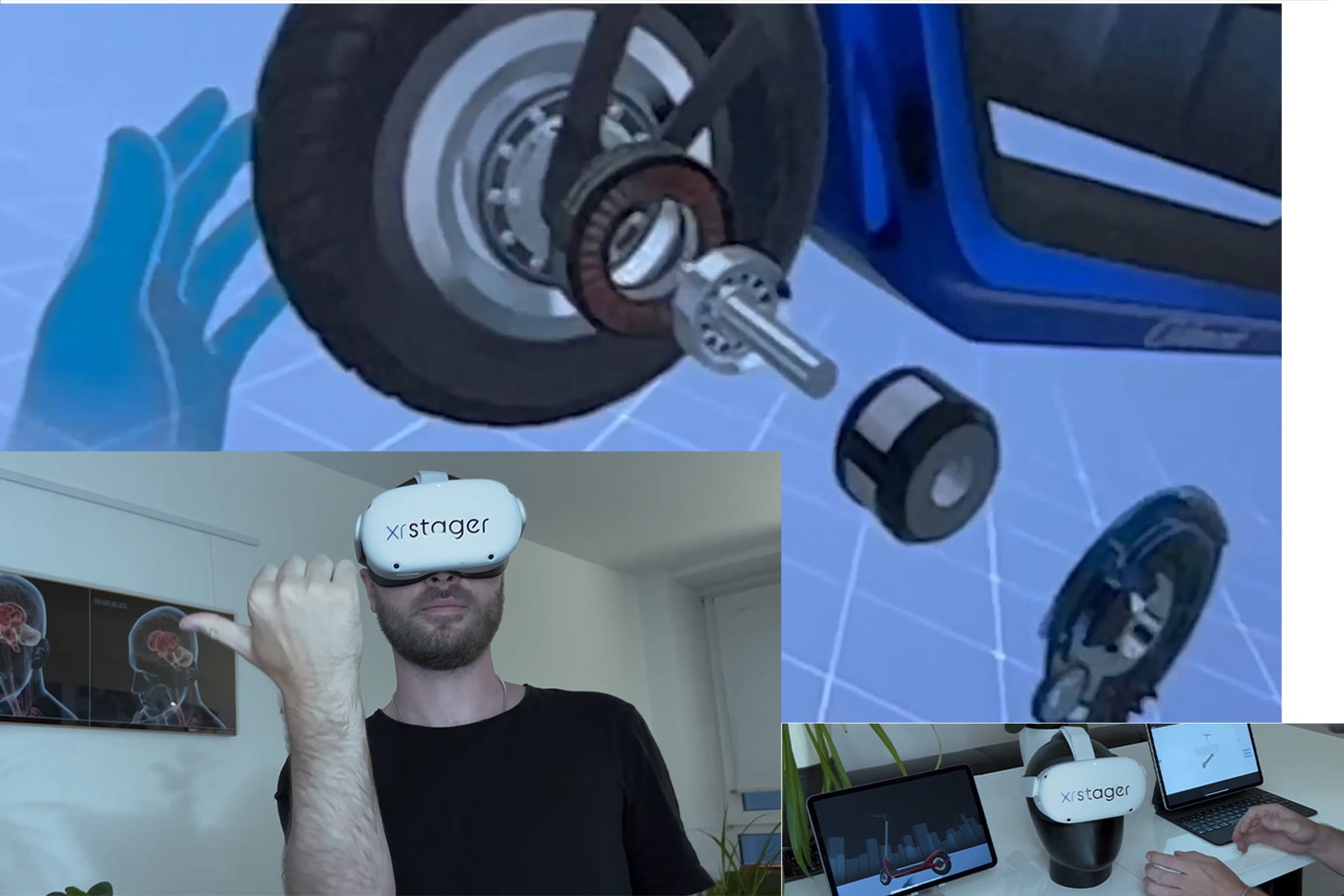 XR Stager
VR Studio
VR Streaming Platform for Your Industrial Metaverse
With a virtual reality headset you can experience your digital products / digital twins and virtual 3D worlds in full size directly in front of your eyes, as if you were standing in the middle of the scenario.
To make the very impressive, so far often very cumbersome experience of 3D content in the VR headset easily accessible to you and your customers, we have developed and integrated for the XR Stager the easy to use and at the same time powerful feature VR Studio.
Integrated and fast
The 3D assets can be uploaded to your VR goggles quickly, conveniently and wirelessly directly from the Asset Manager in the XR Stager VR Studio. Send your individual product configuration with animations directly to your VR goggles.
Wireless to the Meta Quest2 & Pico4
XR Stager VR supports modern standalone VR headsets like the Meta Quest2 or the Pico4 If you want to use another headset with the XR Stager, no problem please contact us we create the interfaces.
Develop & Present in VR
With XR Stager VR Studio, developers and sales can quickly view and present their new products or prototypes directly from the asset manager in full size and 3D stereo (real spatial effect).
The Virtual Reality Studio in the XR Stager can do more:
Uncomplicated as never
No cables and no complicated configuration. So experience virtual reality in the XR Stager more straightforward than ever.
Supports Mixed Reality
With the Pico4 headset supported by XR Stager VR Studio, you can view your Digital Twins in your Real environment with the see-through function through the VR goggles in full size.
Digital Twins at 1:1 scale
With XR Stager VR Studio, products and individual product configurations can be sent directly to the VR headset where they can be viewed at the original 1:1 scale.
Life-size Industrial Metaves
Sit in your Virtual Vehicle, walk through your planned factory and operate the actual machines and machinery of your imagination. Welcome to XR Stager VR Studio.
VR Turbo for Development
Detect bugs even faster by giving developers the ability to view prototypes in VR within seconds
With VR to better design
Develop better design faster by giving your creatives the ability to view ideas and designs in VR within seconds.
Global Collaboration in VR
XR Stager VR allows multiple headsets to be connected simultaneously, enabling regionally dispersed users to collaboratively discuss and develop products in VR.
Cloud & Web VR with CMS
With XR Stager VR, share and control your virtual reality content conveniently and comfortably through XR Stager's powerful CMS using cloud & web technology.
In principle, our offer is quite simple:
Asset-Manager: Control center and content management system for your digital twins
Rendering Engine: Your virtual photo and film studio for brilliant photos and films based on your 3D data
Showroom: The virtual exhibition, presentation and trade show room for your products. As well as powerful event and planning tool for hybrid trade shows.
What can you expect in the demo?
A personally guided demo only for you via screenshare and streaming link – approx. 30 min.
Your questions are priority: Whether and how the XR Stager can solve your challenges, and how we adapt it to your individual infrastructure and your wishes.
Your advantages in the Industrial Metaverse
Attractiveness
Your company continues to gain in attractiveness. In the labor market, with existing employees, but also with customers and investors.
Career jump
For many of our customers, joining the Industrial Metaverse is a real career jump. Because you add massive value to their business and underscore your role as an innovator.
Giving wings to sales
Have you ever presented your products three-dimensionally and in real time? You won't recognize your customer. And neither will your closing rates.
Emotionalize marketing
The customer can twist and turn your products any way they want, just as if they were touching it with their own hands. All in high-end. It hardly gets more emotional than that.
Grasping complicated things immediately
Products that require explanation can be explained long and wide. Or you can simply show them in 3D and in real time. Images that say more than a thousand words.
Successful product launches
Test your products virtually before you produce anything. This way you can continuously optimize the user experience and significantly increase the probability of sales.
Significant savings
In the future, you can also easily present trade fairs or exhibitions virtually, replicable at any time and also easily modified. And high-quality images and films can also be created in the future without external costs.
Customized access rights
You easily determine who has access to your Industrial Metaverse. And who or which groups may modify, download or forward data.
How important is the XR Stager "VR Studio" in Industry 4.0?
VR (Virtual Reality) has an important place in Industry 4.0 as it enables companies to transmit real-time information and instructions to employees while they are working on machines and plants. This can help improve the efficiency and quality of work processes by giving employees quick access to relevant information and helping them complete tasks. VR applications can also help improve employee safety, for example by displaying real-time instructions and warnings.
The XR Stager's VR production studio "VR Studio" plays an important role in this context as it enables companies to develop and publish VR applications for industrial manufacturing and maintenance. By using VR technology, companies can optimize their work processes and increase the effectiveness and quality of their production. The "VR Studio" as part of the XR Stager Cloud Solution platform is therefore an important part of Industry 4.0 and helps companies to be able to take full advantage of VR technology.
Are there concrete figures on how much companies save by using cloud solution platforms?
Yes, there are indeed concrete figures that show how much companies can save by using cloud solution platforms.
A 2020 study by the Federation of German Industries (BDI) ("Cloud Computing in der Industrie: Nutzenpotentiale und Einsatzmöglichkeiten") showed that the use of cloud solution platforms in industry can lead to significant savings. For example, the use of cloud solution platforms reduced IT costs by up to 30% by minimizing hardware and software costs.
In addition, the use of cloud solution platforms has also reduced companies' operating costs by up to 20% by improving the efficiency of IT processes and increasing the flexibility and scalability of IT systems.
Overall, these figures show that the use of cloud solution platforms in the industry can lead to significant savings and thus make an important contribution to improving the profitability of companies.
What potential savings, can be achieved by using virtual VR production studios?
Similar to virtual AR production studios, there are a number of potential savings that can be achieved by using virtual VR production studios. Here are a few examples:
Reduction of travel costs: Virtual VR production studio enables employees to attend meetings and production meetings from anywhere, reducing travel costs.

Reduction in material costs: Virtual VR production studio allows prototypes and other materials to be tested in the virtual world, reducing the need for expensive physical prototypes.

Reduction of energy consumption: virtual VR production studio can help reduce energy consumption by reducing the need for physical offices and production facilities.

Improved productivity: virtual VR production studio can help improve productivity by enabling employees to collaborate and streamline processes faster and more effectively.


Improved education and training: Virtual VR production studio can also be used as a tool to educate and train employees by providing a realistic simulation of production processes.
As with virtual AR production studios, it is important to note that the savings that can be achieved through the use of virtual VR production studios vary from company to company and that it is important to carefully analyze the potential savings before deciding to use virtual VR technologies.