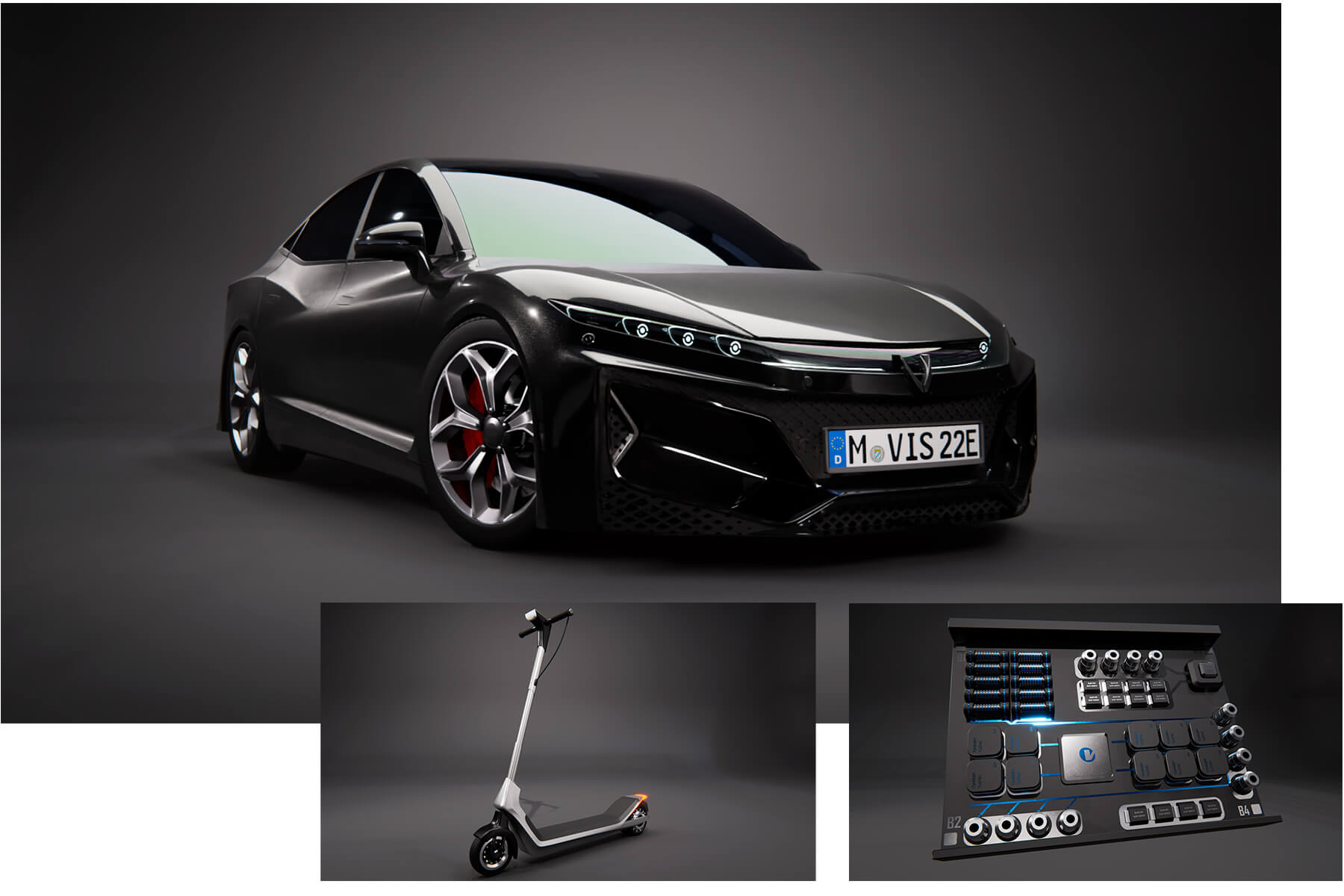 XR Stager
Renderer
The film and photo studio in your Industrial Metaverse
Rendering is the computational process that generates photorealistic computer-generated imagery (CGI) and high-definition video from your 3D data. High-end. In the past, you had to wait hours or days for it, even if it was done through an external 3D agency. With XR Stager Renderer, you can do it yourself, in-house, and it's: Almost. In. Real-time. So practically without waiting!
Even shortly before the presentation, you still get high-resolution images and brilliant product movies, and can easily and quickly change what you want to change.
24/7 Renderings
Now you can create high-resolution renderings, images or movies, anytime and from anywhere. Independently. In-house. You save a lot of money and a lot of time: rendering is done almost in real time, so without long waiting.
All this WITHOUT software installation and WITHOUT expensive "super computers". The normal office hardware is completely sufficient.
Templates
So that all images and videos also comply with the specifications of your style guide, so the look & feel is definitely preserved:
Simply define appropriate templates. E.g. for lighting, color control, background, perspective, animations, etc.. This will save you long discussions. Because there is no other way than exactly according to corporate design. For high recognition and maximum brand impact.
High-end, many settings
In the renderer you can create high-resolution images (4k, 8k, etc.) in many common file formats: for example, as jpeg, png or tiff.
In addition, you can set passes such as Alpha, Ambient Occlusion, Z-Depth, Metallic, Roughness, Diffuse Color, ID-Map or Cryptomatte.
The renderer in XR Stager can do more:
Faster than ever
High-resolution images and videos as fast as never before: With the XR Stager rendering even goes in real time! WITHOUT hours or days of waiting, as before.
Images and videos – child's play
Intuitive and maximally simple operation: So you or your specialist department can also create images and videos independently – all in high-end quality.
Without software installation
As a web app, the XR Stager, and therefore the Renderer, does NOT require cumbersome software installation, which often requires approval.
Without super computers
Neither you nor your customers need expensive super computers for playback – ordinary office hardware is quite enough, even with all the high-resolution images and videos.
Digital camera movements
With the renderer you can freely define camera movements, showing your product from the most interesting perspectives. The result can be played out as an exciting video.
Product views in 360 degrees
You can display products 360 degrees throughout, all around and from all angles. Like any output from the renderer, you can also export it.
GIF animations
The renderer in XR Stager also makes it child's play to create GIF animations – again, of course, in high-resolution and professional quality.
Batch processing
You can send multiple records to the renderer for processing at the same time, and do something else in the meantime. When your media is ready for download, you will receive a notification.
Any export formats
You can export images, videos and GIFs in large and small size and in different formats: e.g. as jpeg, png, gif, mov, mp4
Share on Social
Your renders can of course also be shared on social media networks, such as Facebook, Instagram, tiktok, twitter, twitch, etc.
Storage in the Cloud
Your data and media are stored in the XR Stager Cloud and can be downloaded through your XR Stager account.
API connectivity
Thanks to the API interface, the company's various services can be connected to XR Stager and its Renderer and Showroom modules.
Continuous enhancements
Additional modules are already in development: e.g. XR Stager VR headset connectivity and XR Stager Augmented Reality APP for tablet and smartphones.
Customization
Do you need an individual module for your XR Stager? Feel free to contact us about it! Our developer team will be happy to design and program an indivdual module for you.
In principle, our offer is quite simple:
Asset-Manager: Control center and content management system for your digital twins
Rendering Engine: Your virtual photo and film studio for brilliant photos and films based on your 3D data
Showroom: The virtual exhibition, presentation and trade show room for your products. As well as powerful event and planning tool for hybrid trade shows.
What can you expect in the demo?
A personally guided demo only for you via screenshare and streaming link – approx. 30 min.
Your questions are priority: Whether and how the XR Stager can solve your challenges, and how we adapt it to your individual infrastructure and your wishes.
Your advantages in Industrial Metaverse
Attractivity
Your company continues to gain attractiveness. In the labor market, with existing employees, but also with customers and investors.
Career Leap
For many of our customers, joining the Industrial Metaverse is a real career jump. Because you add massive value to their business and underscore your role as an innovator
Giving sales wings
Have you ever presented your products three-dimensionally and in real time? You won't recognize your customer. And neither will your close rates.
Emotionalize marketing
Customers can twist and turn your products any way they want, just as if they were touching it with their own hands. All in high-end. It doesn't get much more emotional than that.
Comprehend the complicated immediately
You can explain products that need to be explained long and wide. Or you can simply show them in 3D and in real time. Pictures that say more than 1000 words.
Successful product launches
Test your products virtually before you produce anything. This way you can continuously optimize the user experience and significantly increase the likelihood of sales
Significant savings
In the future, you can also easily present trade fairs or exhibitions virtually, replicable at any time and also easily modified. And high-quality images and films can also be created in the future without external costs.
Tailored access rights
You easily determine who has access to your Industrial Metaverse. And who or which groups are allowed to modify, download or forward data.
What does "rendering" actually mean?
Rendering is the computer process that turns a 2- or 3-dimensional template into a high-resolution, photorealistic representation of perfect marketing quality. The computational process is so complex for high-quality 3D renderings because color and light gradients are also created physically correctly (e.g. when two metals reflect each other or an object is colored by reflection of colored light from nearby surfaces (color bleeding)). This process used to take several minutes per image, or even several hours at high resolution. With the renderer in our XR Stager, this can be done almost in real time - practically without waiting. By the way, you don't need a high-performance computer for this; your normal standard office computer is quite sufficient. And since the app is web-based, you don't need to download any software.
Do I need expertise to use the renderer in XR Stager?
Quite the opposite. The application is deliberately kept simple, and no special expertise is required to generate real-time images and videos in top marketing quality. So when you need to be fast and flexible, you can produce without an external agency - in-house. Your specialist department or you yourself, just as you wish. You see every change immediately on the screen, i.e. in real time, and do not have to wait for it for a long time as before. Animations and light settings can be easily varied - or you can define appropriate templates so that each image or video corresponds exactly to your style guide or corporate design.
What does "CGI" and "CGI pipeline" actually mean?
Computer Generated Imagery (CGI) is the English technical term for, precisely translated: "computer-generated image material". The creation of digital images by means of computers comes from film or photo production and used to be applied mostly when real shoots were too costly or not feasible. Today, CGI opens up completely new possibilities in perfect, high-resolution quality. The "CGI pipeline" refers to the queue of data waiting for the CGI process, so to speak. The CGI pipeline in XR Stager is located between the asset manager and the renderer.
What is the significance of the 3D product film?
Many things that cannot be shown in real life, or that require a great deal of effort, are made possible by 3D product films. In impressive quality. You can stage products that do not yet exist in reality. You can shoot at any location in the world, without the risk of weather and without travel costs. With the 3D film in real time, you can create an image film in which your customer directs himself - and only watches what interests him. At their own pace. Your virtual photo and film studio in XR Stager, the Renderer, makes it easy for you or your specialist department to create fascinating 3D product films in real time.